Winter Art Camp – Art Medley and Mud Week Recap
Both weeks of Winter Art Camp were a huge success! Students for week one, Art Medley, worked with a variety of art mediums including acrylic painting, watercolor, wood board art, pottery painting, polymer clay, and more! The students that joined us for this week did an amazing job with each lesson and displayed their unique creativity with each project.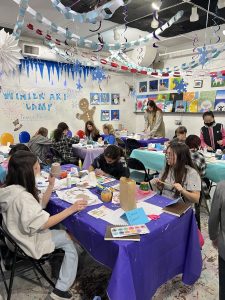 Our age 5-9 kids did an amazing job experimenting with mediums they may have never tried before, displaying their own creativity. We encourage students to share their artwork with their friends and table mates and help one another make something they are proud of!
Our older students, ages 10-14 did an excellent job following directions and trying new techniques. Some of the techniques they mastered include, dry brushing, watercolor stippling, and learning the difference between background and foreground when painting!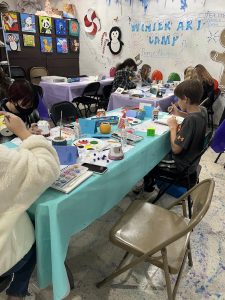 Our Mud Week was jammed packed with 4 days all about clay. Students learned how to score, slip, and attach hand built pieces that they made each day. Along with hand building pieces, students got the chance to throw each day and learn the steps and techniques into working with clay on the pottery wheel!
Check out our Instagram account and Tik Tok account @ burstofbutterflies to get more behind the scenes Winter Camp videos and project posts! As well as a look at our end of camp Winter Wonderland celebration!