Smash And Mosaic Event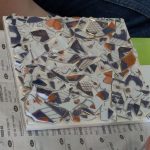 The National Charity League – East Valley Chapter came to us with an idea for an event, and it turned out to be fantastic.  The idea was to bring their group for a stress management activity.   We booked the event as a Smash And Mosaic.
A group of young adults, and chapter leaders, joined us in our party room and adjacent back patio.  Each brought a colorful plate to smash.  Out on the patio, hammer in hand, with each plate laid between newspaper and towels, the women began smashing their plates into tiny pieces.   We provided each person with a 6″ x 6″ flat ceramic tile along with gloves, goggles and glue.   They then began the process of transforming their smashed up plates into a piece of art in the form of a mosaic.
We sent them home with grout to add in later, after the glue completely set.
They all had a blast and said that this was one of their favorite league activities.  We, at Burst Of Butterflies, feel we should do this Smash And Mosaic more often as a regular group experience!