Kids Clay Wheel Throwing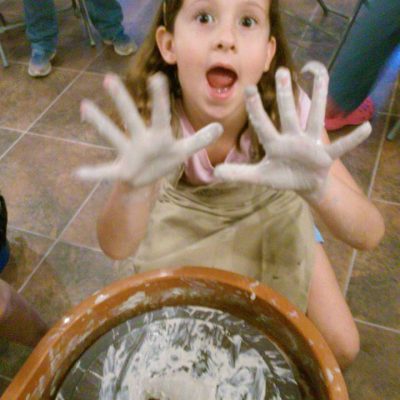 Date/Time
Date(s) - 07/11/2021
3:30 pm - 4:30 pm
Event Location:
Burst of Butterflies – Chandler
141 W. Boston Street
Chandler
AZ
85225
View Other Classes Like this:

This class is designed for kids ages 6 to 12 and is a great opportunity for kids to get the feel for the wheel and learn to center, pull and work with clay to create a bowl or pot.  Kids will love getting their hands in the mud and learning a new skill from an experienced and patient potter instructor.
Try the wheel one time or come back each week to advance through your techniques. Parents and children can work together on a wheel as well.
You may create as many pieces as desired in the time of the class and any pieces you choose to keep will then be fired and ready for you to glaze with ceramic paints in the design and colors of your choice.  You may come in any time during business hours for the glazing process with no reservation required.  Finished pieces include clay used, paint glazes used, and two firings at just $2.50 per inch on the longest side.
This is a class for ages 6 to 12.  Parents can register a space on the wheel along with their child if desired.
Registration:
0 Spaces Remaining
This event is fully booked.